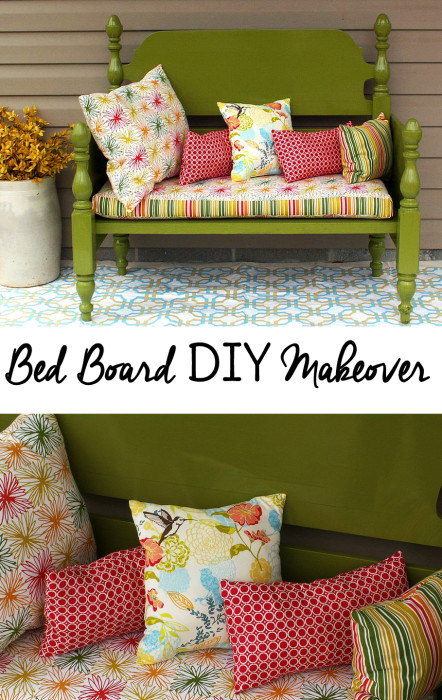 I have a bench that sits on the front porch .  The bench was converted from an old bed and while it has a lot of character it was in desperate need of an update.  The entire project was easy to accomplish in one weekend.  The cushions can actually be made in just a few hours.

Materials:
Fabric (3 coordinating colors)
Polyfill or Foam (for pillows/cushions)
Thread
Paint (3 to 4 cans spray paint)
I purchased 4 cans of spray paint but only used 3.  I didn't cover the back or seat thoroughly with the paint because those areas aren't really seen.  The amount of fabric depends on the size of the bench.  I purchased 1 1/2 yards of the main fabric and 1/2 yard of each coordinating fabric.  After covering the seat cushion, I had enough fabric left to make a pillow.
I began by painting the bench.  Actually I began by allowing my husband to paint the bench for me :).  He is a much better painter.  Then, while the bench cured I worked on the cushions.
When covering cushions, simply measure the cushion then add 1″ to each side of the fabric for a seam allowance.  My bench measures 42″ x 16″ and already had a cushion.  If you don't have a cushion you can purchase the foam at your local fabric store.  I cut two pieces of fabric 44″x18″ for the top and bottom of the seat and two pieces 44″x3″ and two pieces 18″x3″.  These pieces were for the front, back, and side edges.
TIP:  Remember you can always take in a seam if it is to large but if you cut the fabric to small there is no way to make it grow ;).
With right sides together pin the long side piece to the seat top repeat with other side.  Stitch, remove pins, press seam open.
Then repeat process with short ends.
Assemble corner "pockets" by pinning corner edges right sides together.  Sew, clip corners.
Now place cover over cushion to check fit.
With right sides together pin bottom to cushion cover leaving an 18″ to 20″ opening along the longer side to allow for insertion of the foam.  Insert cushion and slip stitch opening  closed.  Now the seat cushion is compete.  For the pillows I simply cut square or rectangular shapes from the desired fabric.  Cut two pieces of each shape and fabric choice.  With right sides together, pin around the edges leaving a 6″ opening for turning and stuffing.  Sew, stuff with polyfill and slip stitch closed.
I was pleased with the results and was able to incorporate a couple of summer trends into my project.  I love the large floral print and the red geometric patterned fabric.