I love me some Asian food. God love my estranged Korean aunt for introducing our family to some of the best! This is what I made for dinner one night including recipes. The only thing that would have made it better would have been some egg rolls, but I couldn't find the wrappers in our little rural town.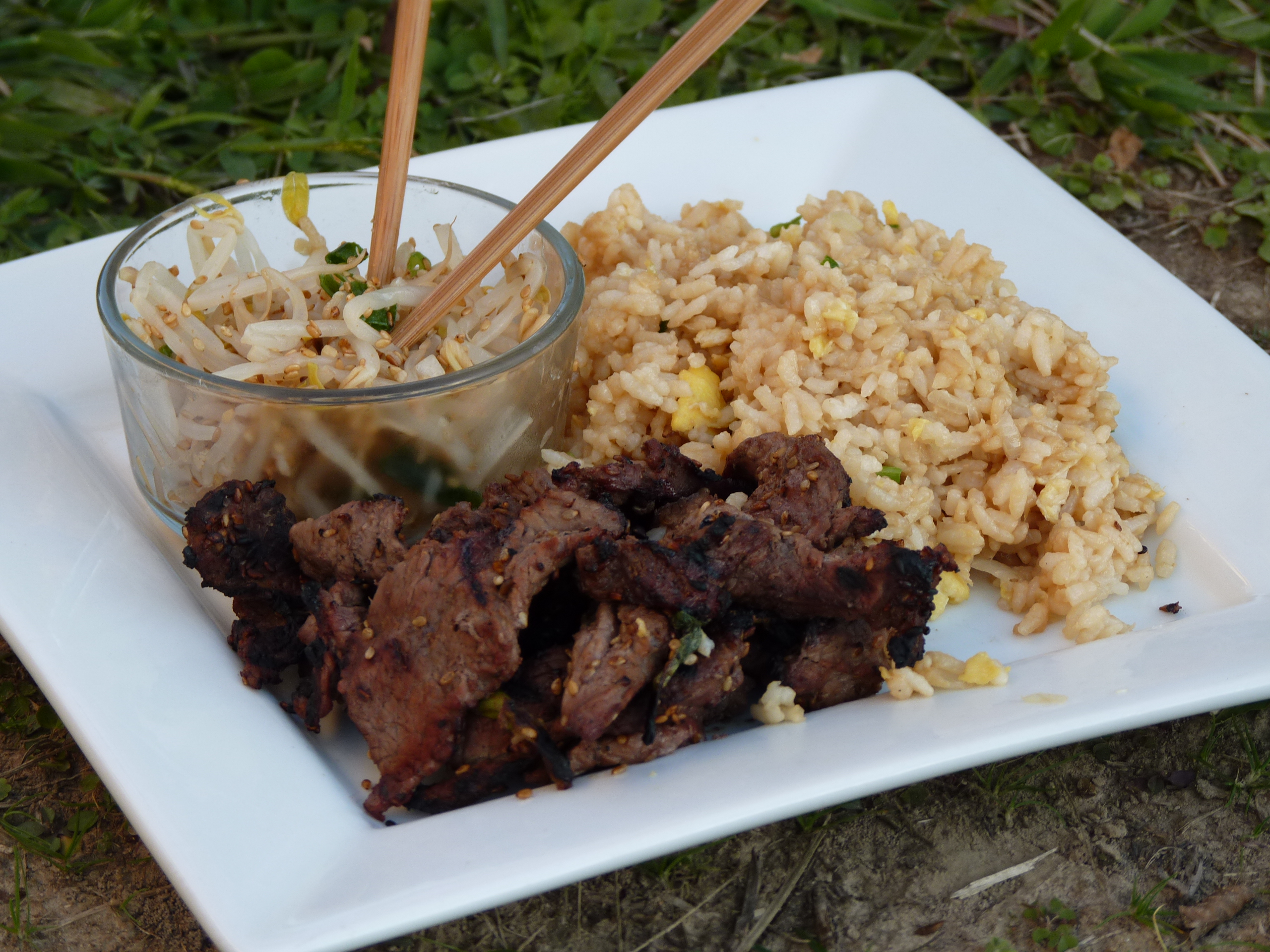 Main course – Bulgogi
Ingredients:
1 pound flank steak, thinly sliced
5 tablespoons soy sauce
2 1/2 tablespoons brown sugar
1/4 cup chopped green onion
2 tablespoons minced garlic
2 tablespoons sesame seeds
2 tablespoons sesame oil
1/2 teaspoon ground black pepper
Place the beef in a shallow dish. Combine soy sauce, sugar, green onion, garlic, sesame seeds, sesame oil, and ground black pepper in a small bowl. Pour over beef. Cover and refrigerate for at least 1 hour or overnight (overnight is best!)
Preheat an outdoor grill for high heat, and lightly oil the grate.
Quickly grill beef on hot grill until slightly charred and cooked through, 1 to 2 minutes per side.
The thinner the better for this! If you don't have a KitchenAid or food processor attachment for getting it super thin, go ahead and pay extra to get the pre-sliced. You won't regret it.
Rice:
2 cups enriched white rice (go to your local Asian grocery. Do not use Uncle Ben's or I will hurt you!)
4 cups water
2/3 cup chopped baby carrots
1/2 cup frozen green peas
2 eggs
3T sesame oil
soy sauce to taste
In a saucepan, combine rice and water. Bring to a boil. Reduce heat, cover, and simmer for 20 minutes (or cook in a rice cooker. See my tip). Chill rice for at least 4 hours. This is key!
Heat wok or skillet over high heat. Pour in sesame oil, then stir in carrots and peas; cook about 2 minutes or until thawed and warm. Add rice and cook until warmed. Push rice to the side then crack in eggs, stirring quickly until you have very runny scrambled eggs.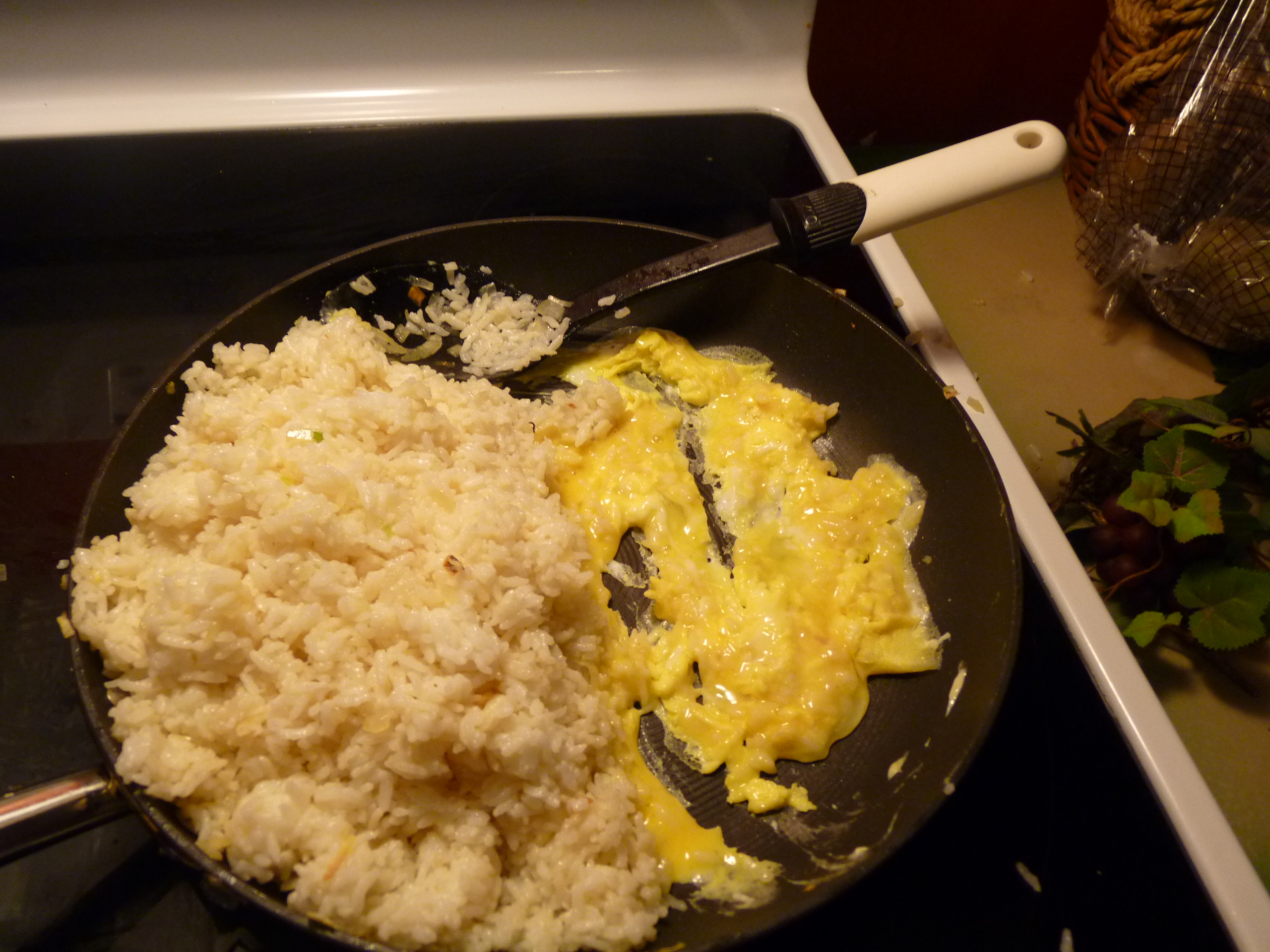 Mix eggs in with rice then shake in soy sauce, and toss rice to coat.
Bean Sprouts:
1/2 lb bean sprouts – (fresh is best, but canned will work. Just add less salt if you use canned)
salt to taste
2 tablespoons sesame seeds, toasted
1 teaspoon sesame oil
1 teaspoon minced garlic
1/4 cup finely chopped green onion
1 pinch cayenne pepper (optional)
Drop the bean sprouts into boiling water and boil 5 minutes. Drain well. Return to the pan. Stir in the salt, sesame seeds, sesame oil, garlic, cayenne, and green onions. Simmer 2 minutes. refrigerate to serve cold. If you are using canned beans, just skip the boiling and add seasonings as if already cooked.
I hope you enjoy this meal as much as we did!