This thin sliced chicken breast recipe cooks quickly using your oven's broiler or your outdoor grill. Perfect for summertime when you don't want to heat the house up by using the oven for a long time!
Asian Style Chicken Skewers
Author:
Prep time:
Cook time:
Total time:
Ingredients
1/2 cup coconut milk
2 Tbsp fish sauce
2 Tbsp red curry paste
2 cloves minced garlic
2 lbs PERDUE® Boneless Skinless Chicken "Thin Sliced Breasts" cut into 1″ strips
15 wooden skewers, soaked
1/2 cup creamy peanut butter
2 Tbsp honey
Juice from two limes
2 teaspoons sriracha
1 Tbsp soy sauce
1 Tbsp fish sauce
1 tsp minced garlic
Toasted sesame seeds (optional)
Instructions
In a medium bowl, combine coconut milk, fish sauce, red curry paste, and minced garlic.
Add chicken to a gallon food storage bag and pour coconut milk mixture over top.
Seal bag, coat chicken, and refrigerate for at least 30 minutes to marinate.
Thread chicken onto skewers and place on foil-lined baking sheets
Sprinkle chicken with sesame seeds if desired
Cook under oven broiler until chicken is cooked through, approximately 3 minutes per side.
For sauce: whisk all sauce ingredients together in a small saucepan and cook until warmed through. Serve with chicken skewers
Some chicken pieces you'll thread straight onto the skewer and others you'll want to "weave" on almost like a ribbon.
Chicken is a meat that I tend to accidentally overcook in an attempt to cook it safely so I really appreciate the thin-slice of PERDUE® FIT & EASY® Thin Sliced Chicken Breasts.
It makes these chicken skewers cook up quicker than standard chicken breasts so you can get back to enjoying summer fun with your family! Since these thin slices are skewered with this recipe, it's easy to check for doneness without fear of under or overcooking.
Some things for moms to love about Perdue chicken: 
Perdue chickens are fed a 100% vegetarian diet, with no animal by-products
Perdue chickens are cared for in a clean, safe environment.
Perdue never uses antibiotics of any kind, at any time.
Perdue is the only chicken company that has the USDA go beyond its standard inspection to verify that their chickens are raised humanely on family farms right here in the USA.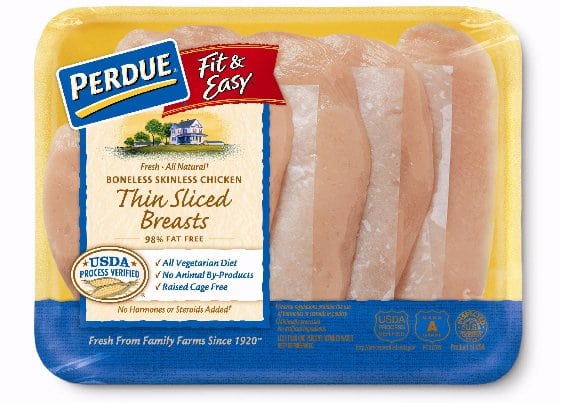 Perdue also offers a variety of other time-saving products for busy moms such as
PERDUE® Crispy Strips
PERDUE® Popcorn Chicken
PERDUE® Buffalo Wings
PERDUE® PERFECT PORTIONS® Boneless Skinless Chicken Breasts
PERDUE® HARVESTLAND® PERFECT PORTIONS®
Boneless Skinless Chicken Breasts
PERDUE® SHORT CUTS® Carved Chicken Breast Strips
Visit perdue.com/promotions for more recipes, tips and meal plans to help you succeed this summer!
This is a partnered post. All opinions are my own.