These Apple Cinnamon Puff Pastry turnovers make a yummy puff pastry dessert or special breakfast treat if you're feeling indulgent.

Ingredients:
1 pack frozen puff pastry, thawed
1 egg yolk
1 Tbsp water
3 Tbsp unsalted butter
3 medium apples, peeled, cored and cut into thin slices
2 Tbsp brown sugar
2 tsp ground cinnamon
1 tsp nutmeg
1 tsp ground cloves
Whipped Cream Ingredients:

1 pint heavy whipped cream
2 Tbsp maple syrup
Directions:
Defrost puff pastry in the refrigerator for several hours or overnight.
In a large glass bowl, blend 1 pint of heavy whipping cream with a hand or immersion blender until it doubles in size and changes texture. Then, drizzle maple syrup into the bowl and continue blending until the mixture is light and fluffy. Set aside.
Adjust baking rack to middle position and preheat oven to 400 degrees.
Prepare an egg wash by beating one egg yolk with water until thoroughly combined. Set aside.
Remove thawed puff pastry from refrigerator. Place pastry on a lightly floured surface. Roll dough into a uniform square shape and cut into 4 equal-sized squares. Place squares on a large rimmed baking sheet lined with parchment paper. Dock (pierce with a fork) the center of each pastry square and place in the freezer while preparing the apple mixture.
Melt butter in a saucepan over medium heat. Add apple slices to pan and cook for several minutes until soft, stirring occasionally. Add brown sugar, cinnamon, nutmeg and ground cloves to pan. Stir to combine, then remove from heat and set aside.
Remove prepared puff pastry from freezer and spoon ¼ of the apple mixture into the center of each square. Fold each corner toward the middle of the square to "close" the pastry, but leave a couple openings to vent.
Brush puff pastry with egg wash and sprinkle with additional cinnamon, if desired.
Place the baking sheet in the pre-heated oven on the middle rack. Bake until pastry is light and puffy, approximately 25–30 minutes. When ready, the tart should be a rich golden brown. Actual cooking time will vary by individual oven, so keep a close eye on the pastries to avoid over-browning.
Remove from oven and allow to cool slightly before serving. To serve, top with maple whipped cream or your favorite ice cream.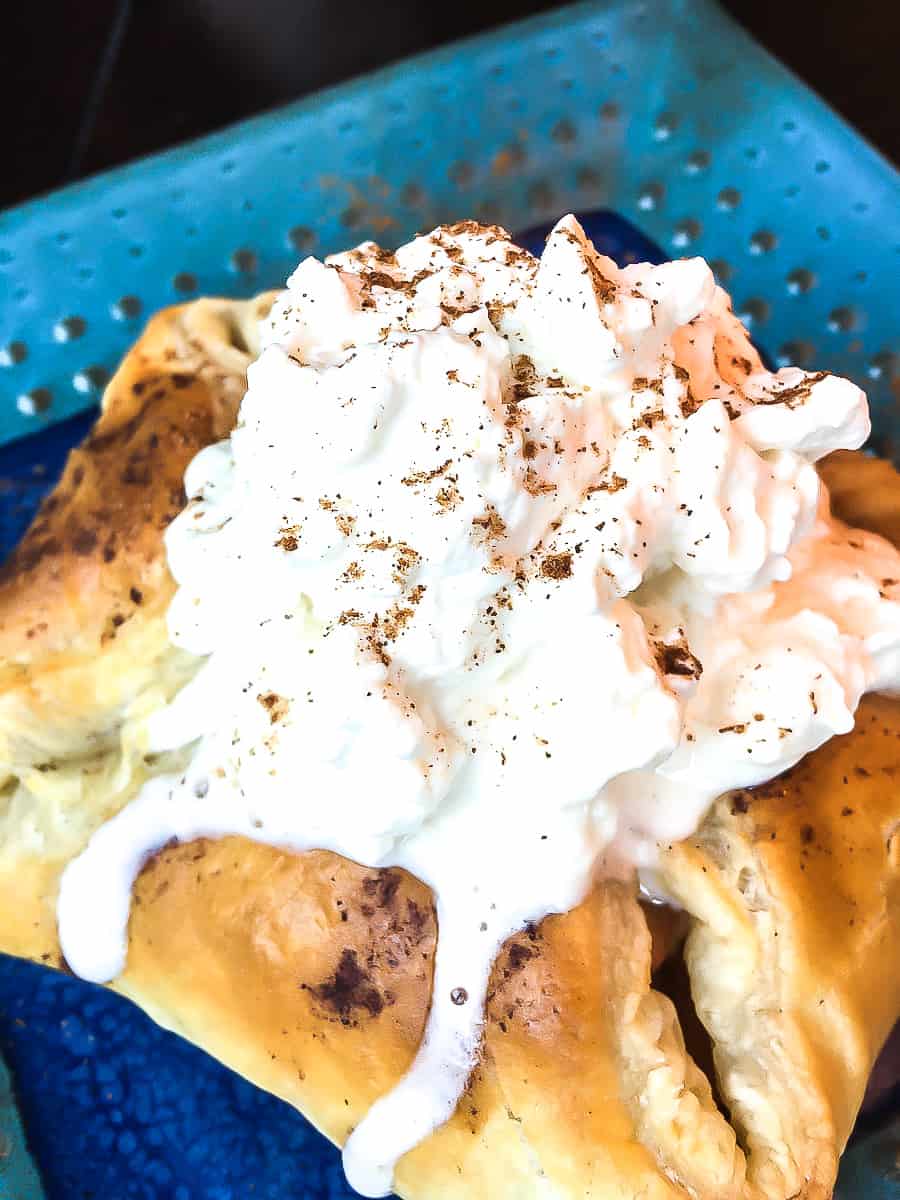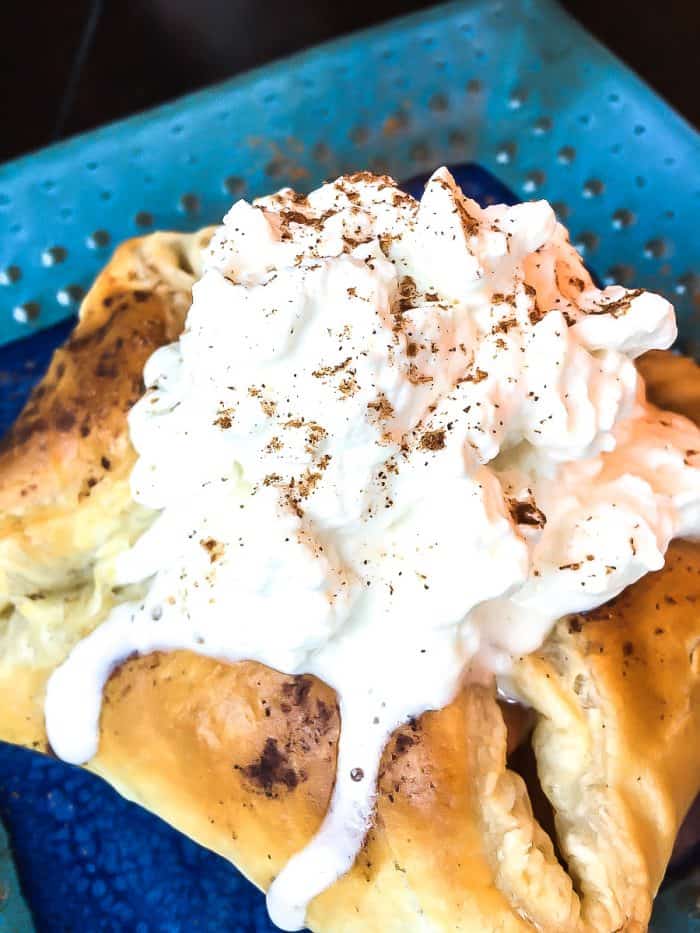 Apple Cinnamon Puff Pastry Turnovers
Ingredients
1 pack frozen puff pastry, thawed
1 egg yolk
1 Tbsp water
3 Tbsp unsalted butter
3 medium apples, peeled, cored and cut into thin slices
2 Tbsp brown sugar
2 tsp ground cinnamon
1 tsp nutmeg
1 tsp ground cloves