For someone who is terrified of heights, I had a serious adventure this weekend. Adventures Unlimited provided Brandcation bloggers with a zip line experience that we will never forget! Our amazing guides Desiree and David kept us safe and made sure we had a blast. Fun fact: Desiree zips seven days per week at Adventures Unlimited (even in the middle of the summer!) and is in amazing shape. She and David are married and he works some weekends in addition to his regular job so they can team up and have fun working together. Awww!
After gearing up we started out with a practice zip so we could learn the ropes and get a feel for braking. This was a fun little zip so I thought "oh that wasn't bad. Fun!"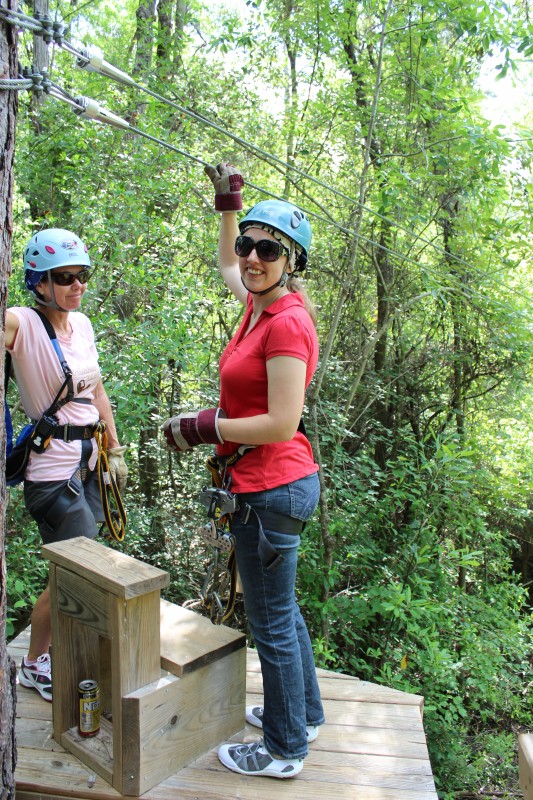 Then came the first real zip at which point I stopped taking pictures because I was holding on for dear life to anything and anyone within my reach. Toni's expression here pretty much sums it up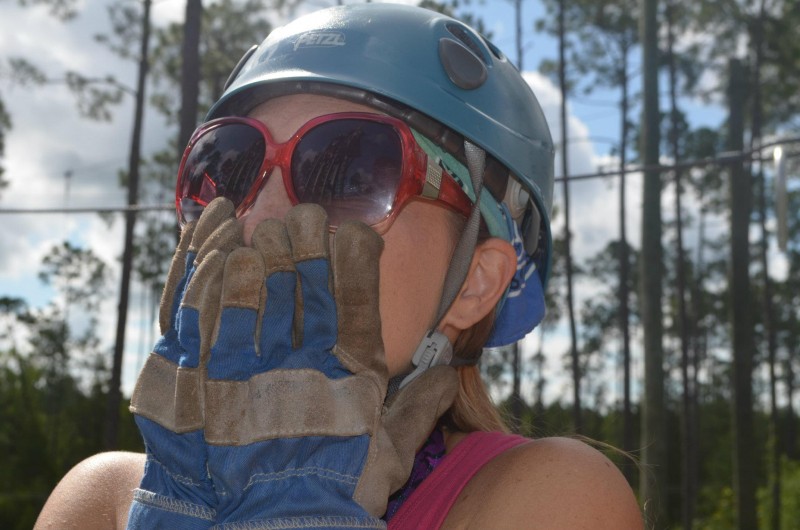 Obviously if you don't have a problem with heights (like Candy here), this is no big deal to you. I however was terrified! Notice my clinging to the ladder taking one step at a time while David patiently waits. Throughout the entire adventure we were tethered to something even while climbing ladders and waiting on platforms. Intellectually I knew I was safe, but I had a hard time getting the message to my nervous system. David and Desiree were patient and encouraging though so eventually I got over the terror and was just mildly nervous. 🙂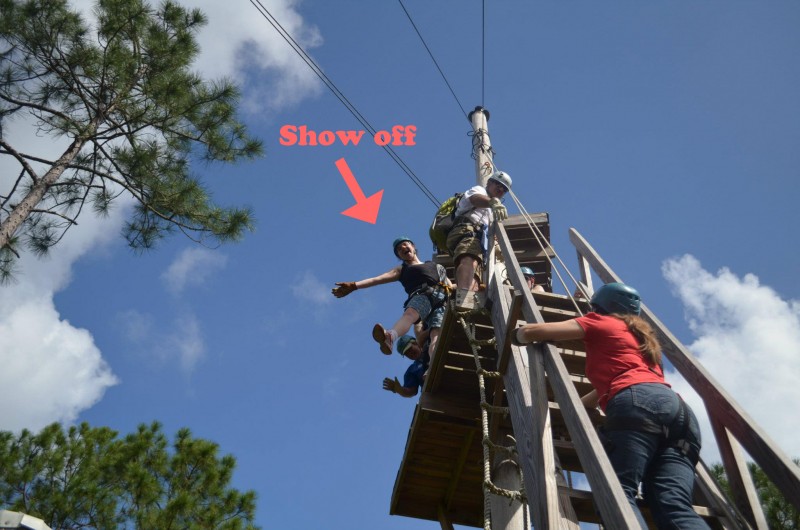 Here's my first zip, positioned stiff as a board while something like this was going through my mind. "Wheee! this is fun…I'm going to die…look at the view…get me down."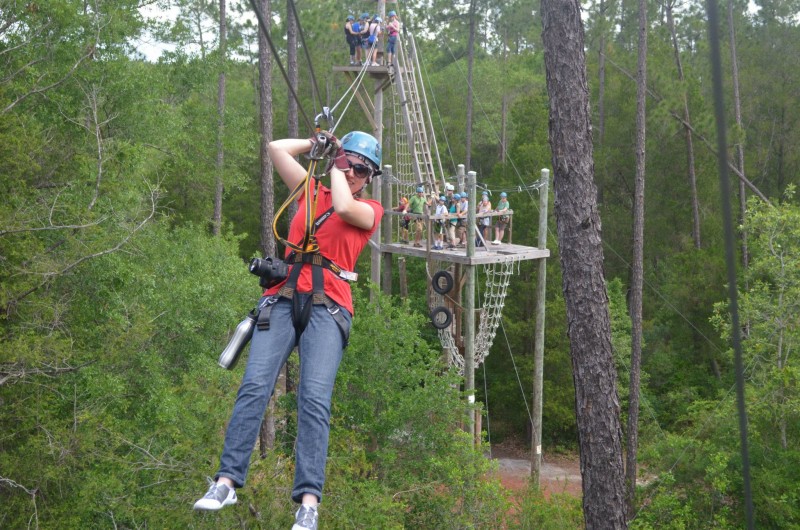 Here's our guide Desiree showing how it's done!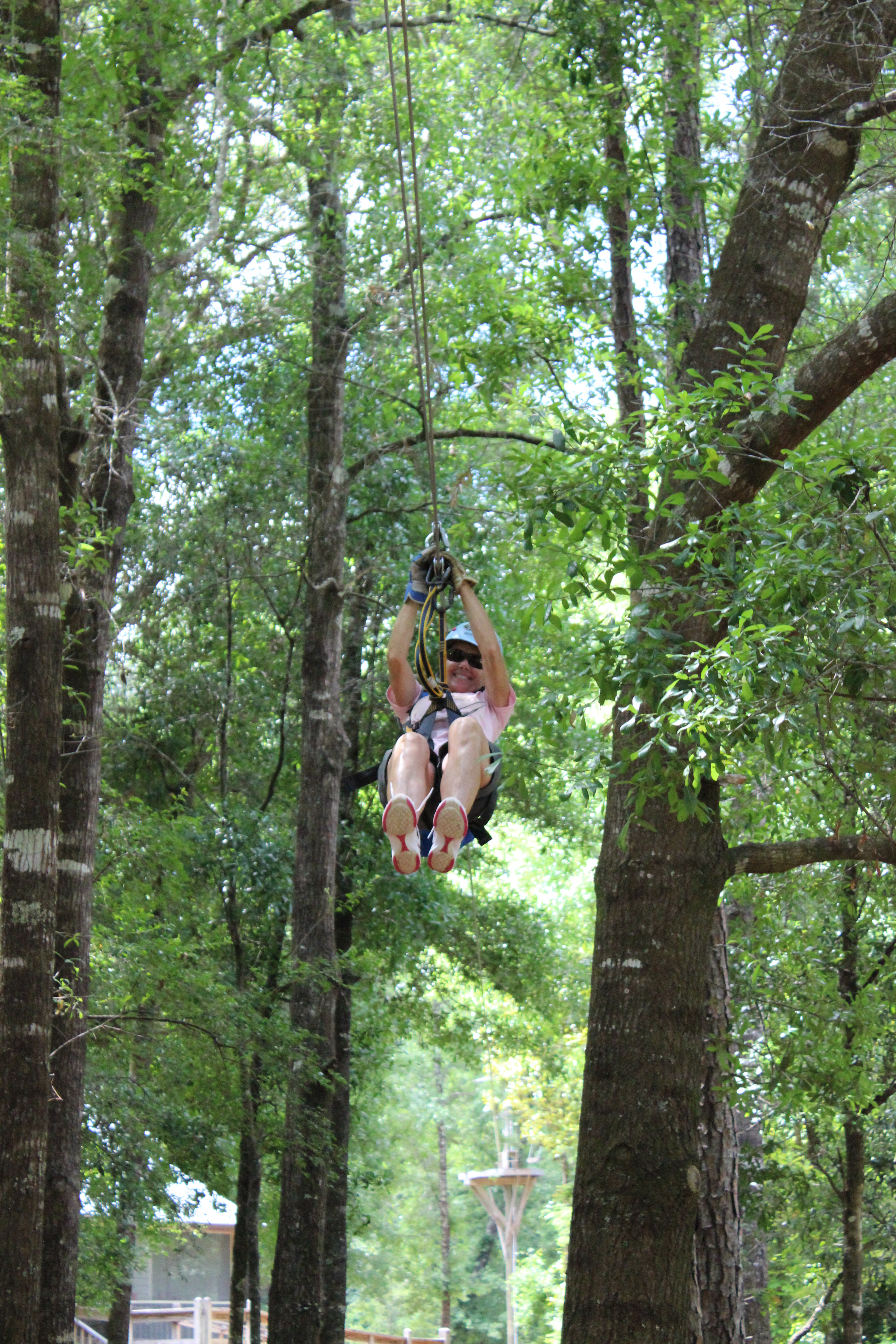 After the first few zips I was ok with the height and started to really enjoy myself. The longer zips were my favorite since there was time to enjoy the ride without focusing on breaking and landing from the time you take off. I'd love to go again now that I have the hang of it.
So if you haven't figured this out by now, pregnant women can zipline as long as it's comfortable for them. We just have to consult with our caregiver and sign the same waiver as everyone else. Yay for that since there are so many fun things off limits during pregnancy. Here's some tips for a day of ziplining whether you are pregnant or not:
1. Wear good shoes – Closed-toed shoes are required and I brought tennis shoes from Alabama but left them at my in-laws house in Pensacola. Mellissa saved the day by loaning me her water shoes, but I could have used the support of good walking shoes while standing on those platforms.
2. Stay hydrated – This one I aced. You can see the water bottle attached to my equipment in the above pictures. Highly recommend!
3. Keep your blood sugar up – This is Florida and it's hot. You'll be doing lots of standing and hiking in the humidity. I didn't eat a good breakfast and didn't bring a snack so I actually missed the very last zip since I had to find some food stat! Fortunately Adventures Unlimited provided us with a fantastic lunch so I didn't have far to go to find sustenance.
4. Leave the DSLR at home – While cameras are find to bring as long as they are securely attached to you, my DSLR got in the way big time. Just bring a point and shoot or your phone if it has a camera.
Adventures Unlimited provides so much more than just ziplining. They've been helping other enjoy nature since 1972! We also enjoyed a 3 hour float down the Coldwater River. While this was refreshing after ziplining, it's still a little bit of work since you have to paddle with your hands to steer clear of the river bank.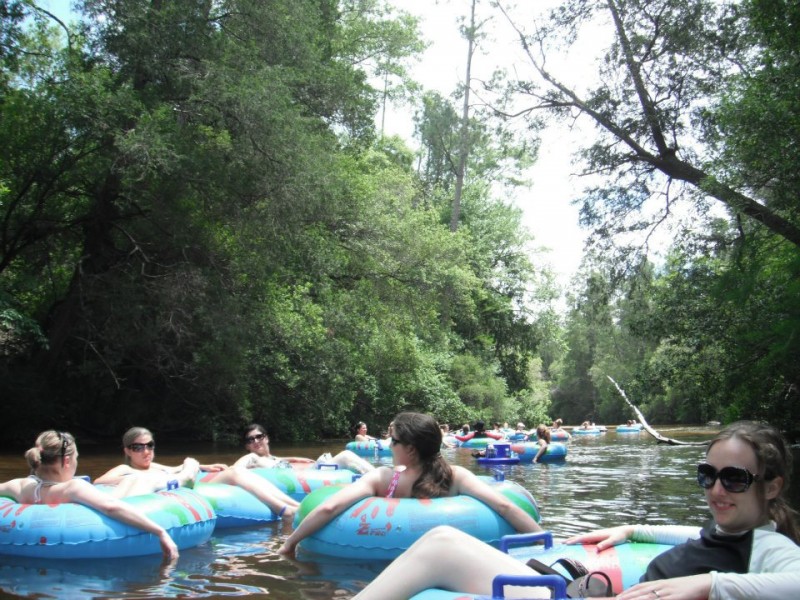 I can't wait for my next adventure with Adventures Unlimited! Maybe I'll do an overnight adventure in the Schoolhouse Inn.
Special thanks to Adventures Unlimited for providing our day of fun at Brandcation!