No, I'm not pregnant but I am a glutton for punishment. Since I have no time to clean, blog, shower, or spend time with my children I decided to adopt a kitten. That will fix everything, right? Adopting a cat with small children in the home isn't a route to stress relief, but since we can't have nice things right now anyway…might as well get a cat!
Meet Cricket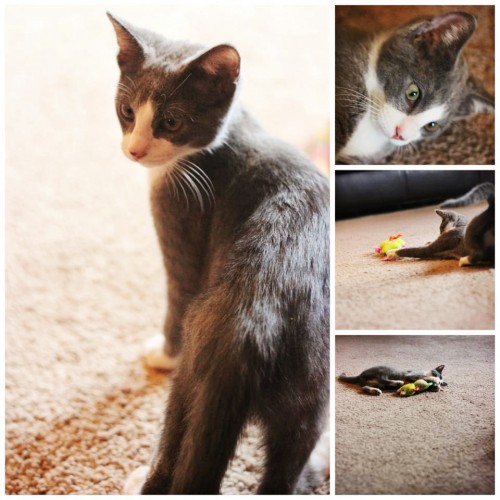 He came from our local animal shelter and was already neutered, vaccinated, and declawed (don't agree with the latter, but what's done is done.) He's an absolute delight! Cricket is the most affectionate cat I've ever had and is gentle with the kids. He'll even let Gus pull his fur and whiskers without retaliation.
Unfortunately, Sweet T is afraid of him. I'm hoping she'll come to enjoy him as much as I do in time. She's not one for change and new situations!
Mama is enjoying having a cat again though. It's been too long!