In this age of entitlement, it's important to teach our children empathy and selflessness as early as possible. Guess what that requires? Being kind and selfless yourself! Completing family service projects and encouraging acts of kindness are great ways to build character in yourself and your child. You'll even make special memories together in the process. There are whole blogs dedicated to teaching our children to serve which serve as a great source of inspiration. Pennies of Time is one of my favorites.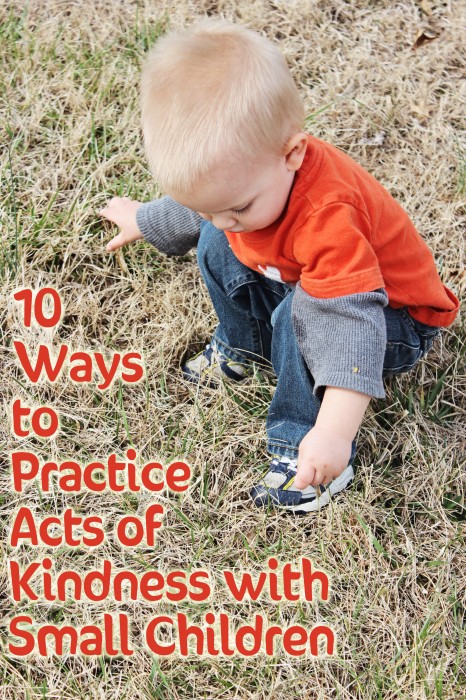 As a mother to two preschoolers, I often feel like life is "on hold"  and I won't be doing any world-changing until the kids are older. There's no reason to wait though. Below are 10 acts of kindness you can do with small children (or in spite of them. 😉 )
1. Rose Stems –  This doesn't have to cost you much. Last month our local Aldi had 6-stem rose bouquets on clearance for $2.99. I purchased one and had Sweet T hand out single stems to other customers as we were leaving. Not only did this make their day but all those smiles and praises from strangers really helped Sweet T with her social anxiety.
2. Bird Treats – Teach your children to be kind to animals too! Pinecone + Peanut Butter + Birdseed and hang it on a tree. Detailed tutorial here. The kids and I had fun making these and even more fun watching the birds enjoy their treat.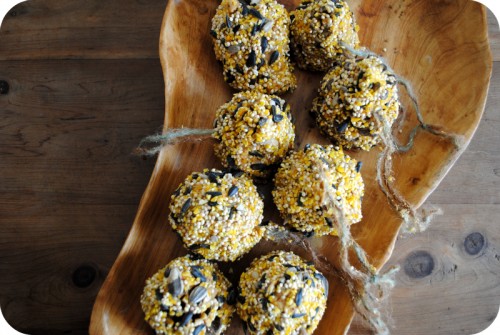 3. Glow Bracelets – In the summer you can usually find a pack of 8-10 glow bracelets with connectors at the $1 spot at Target or at the Dollar Tree. Hand individual bracelets out to kids at the skating rink, fireworks shows, concerts, playdates, the pool, outdoor events, etc. Always ask their parent first before placing one in a child's hand!
4. Sympathy Cards – You don't have to look far to find someone experiencing a loss. Go through your church's prayer list or your Facebook feed and find someone in need of prayers and encouragement. Pull out your craft supplies and have your kids help you make a card for them.
5. Deliver a Meal – Wait, Jenn! I'm a mom to small children and often don't get dinner on the table for my own family! I know. Me too. That's why I let Spoonful of Comfort do it for me this week. They sent their popular Warmest Wishes Package to a lady in our church family whom I found out was in need of a blessing. The package includes a half gallon of handcrafted chicken soup, 6 made from scratch rolls, 6 cookies for dessert, and a serving ladle all gift-wrapped and presented on your loved one's doorstep with a handwritten message.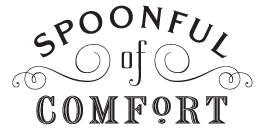 6.  Flower Delivery – Have a small bouquet send to someone you love or appreciate. I have used fromyouflowers.com and sent the cheapest bouquets available and used coupon codes to make it affordable. Let the kids be a part of the decision-making process. Another way to save is to purchase the flowers at your grocer, place them in a Mason jar and hand deliver them.
7. Thrift Store Donations – Instead of sneaking out your children's toys and clothing when they aren't looking, teach them to be part of the purging process. Explain how their clothing no longer fits them and that there are other children in need of them. Have them choose a single toy they can part with after explaining that there are other children who don't have toys at all!
8. Soldier Mail – Write a short letter to a deployed member of the military. Have your children color or draw a picture to include. Explain to your kids why we appreciate our military heroes. Need addresses? Sign up for the Letter Writing Team at SoldiersAngels.org. We've been members of the team for 6 years now and I'm happy to answer any questions you may have.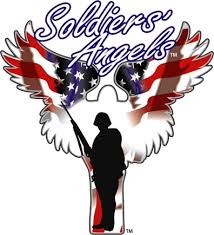 9. Let someone ahead of you in line – Long line at the grocery store or bank? Let someone in front of you! As a SAHM, I generally don't run a tight schedule (unless it's getting close to nap time, then all bets are off.) I frequently let people in front of me in lines particularly if the person is elderly, in a rush, has only a few items, or if their kids are melting down. It's a great way to let your kids see you slowing down and putting others first.
10. Hand out thank-yous to workers – Use this free printable template and hand out a thank-you to people you encounter each day. A child can give these out as soon as their little fists can grasp a business card. Give them to:
Food service workers
Retail workers
Janitorial staff
Nurses and Lab techs at the doctor's office
Your dental hygienist
Receptionists
Bank tellers
Pizza delivery person
Your lawn care/pool maintenance crew
Hotel maids
Your pastor/rabbi/priest
Teachers
Tape one to the top of your garbage can if your garbage is still dumped in the back of the truck by hand
Leave one in the mailbox for your postal carrier
UPS/FedEx delivery personnel
Service people who come to your home (Plumber, Electrician, Carpenter, etc)
Co-workers or classmates who help you out in a pinch
Strangers who hold a door open for you, let you go in line in front of them at the check-out, offer to take a group photo for you on vacation, etc.
Disclosure: Spoonful of Comfort send a Warmest Wishes Package to a recipient of my choosing in order to facilitate this post. No other compensation was received. All opinions are my own.