*Note: The wording of this post has been changed from the original in order to ensure FDA compliance and may not read as smoothly as it was intended
Does is seem like your kids are sick every other week this time of year? Are your little germ magnets bring home colds and spreading it to the rest of the family? This was the story of our lives last winter. Sweet T and Gus would come down with a cold or fever, keep it for a solid week, then be healthy for about a week before starting the cycle all over again. They were sick literally half the time. Hubs and I would catch it from them periodically making the two of us sick for about 1/4 of the winter.
This season when we all came down with fevers (before and during vacation no less!) I said enough is enough! We can't go through another winter like this. Either we move the entire family to Jamaica for the season or figure out how to prevent getting sick as often. You can guess which one worked out. 😉
After that first bout of illness the first week in December, I implemented the following strategies to support our immune systems. I'm happy to say Hubs, Sweet T, and I have gotten the crud only one time since then, and Gus hasn't gotten it at all! Quite a difference from last year.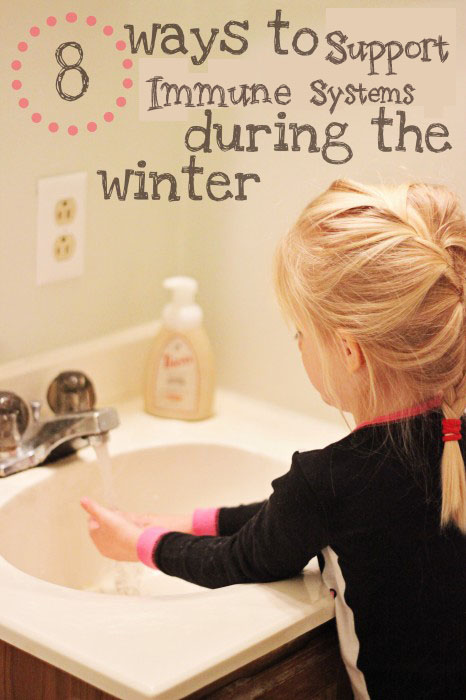 1. Reduce Refined Sugar Intake – Refined sugar suppresses the immune system so we've cut our intake. I don't choose to be too religious about it like refusing to eat ketchup or yogurt which both contain sugar, but we've eliminated desserts, soft drinks, and "sweet treats" for the time being.
2. Vitamin D3 drops – Did you know if you live north of Atlanta, Ga it's impossible to for you to get enough vitamin D in the winter months? This is due to the angle and position of the earth toward the sun during the winter. Supplementing is cheap and easy with liquid vitamin D drops. I found a bottle at Walgreens that contains 1,000 IU per drop. The drops are pleasant-tasting so I put a couple in the kids water each day and 5-10 drops in mine.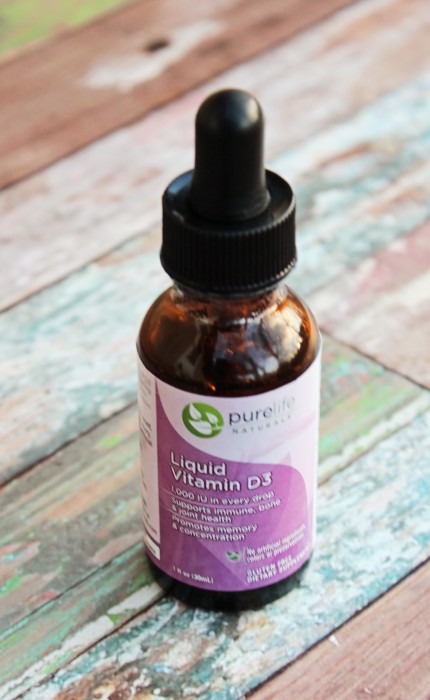 3. Sleep – Make sure your kids are getting plenty of rest. Nothing makes me more susceptible to colds and viruses than missing out on sleep. The same goes for the kids. Consider starting a sleep schedule if you don't have one or co-sleeping if that's what it takes for them to get those Z's.
4. Apply Quality Essential Oils – I only use Young Living Essential Oils for my family. Each night before bed the kids get a drop of Young Living Thieves blend on the bottoms of their feet to support their immune systems.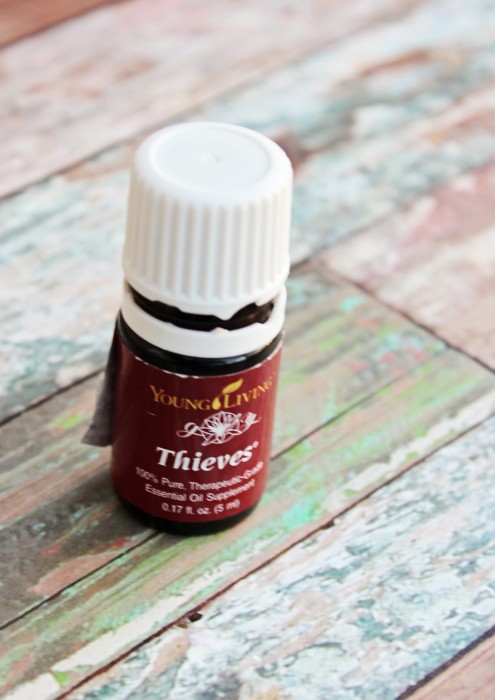 Thieves is an essential oil blend that dates back to the 16th century
Thieves was created based on research about four thieves in France who covered themselves with cloves, rosemary, and other aromatics while robbing plague victims.
It takes something powerful enough to ward off The Plague to keep little ones from picking up only the Lord knows what at Chuck E Cheese! 😉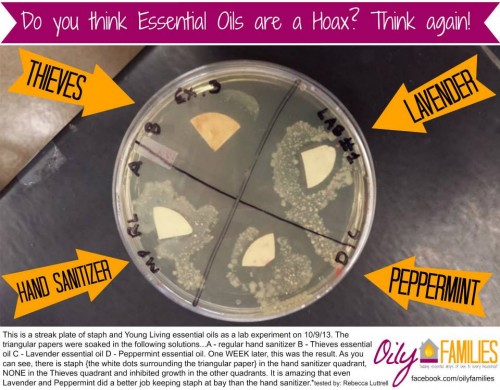 5. Frequent Hand Washing – Fortunately, most preschoolers love to wash their hands. It's an excuse to play in the water for my kids and I'm happy to let them. We use Young Living's Thieves foaming hand soap to keep their little hands clean. Anytime we return home from an outing, we immediately head to the bathroom to wash our hands.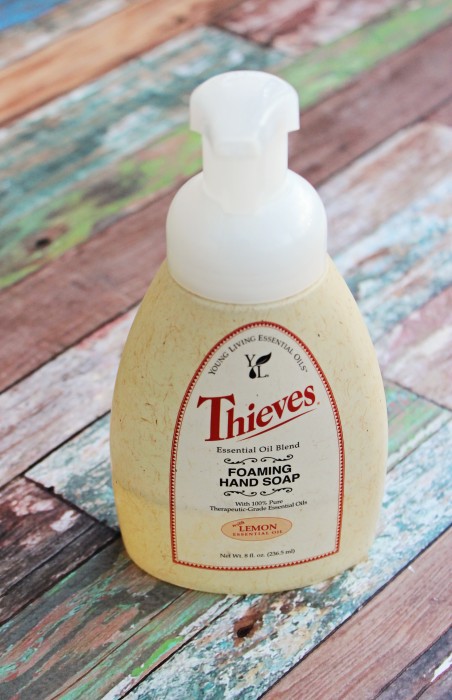 6. Keep Surfaces Clean – Dilute one cap full of the Thieves concentrate pictured below in a spray bottle of water so you can clean and fumigate without harsh chemicals. It's safe enough to wash produce and effective enough to cut greasy kitchen countertops. Sweet T helps me keep doorknobs, switchplate covers, counters, tabletops, and faucets clean with Thieves cleaner. It's almost as fun for her as hand-washing! 😉 Consider keeping car seats, door handles, and the steering wheel wiped down too.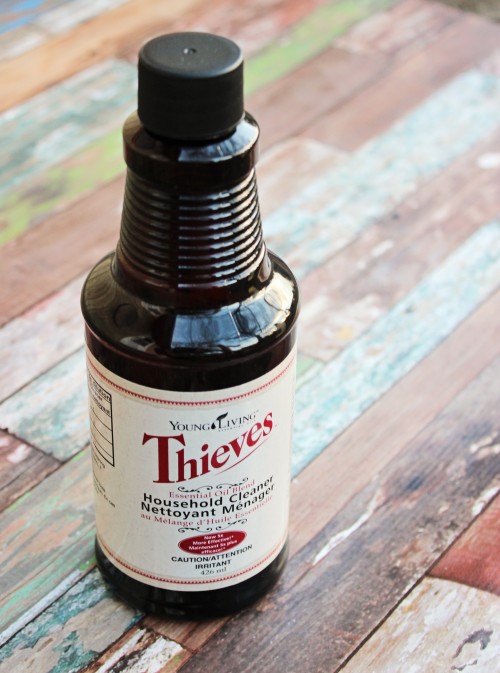 7. Purify the Air in Your Home – If you have central heat/air be sure to replace your filter every three months with a quality filter that reduces airborne bacteria. Also invest in an air purifier, or take the cheaper route like me and diffuse a few drops of essential oils daily. We diffuse Young Living Purification and Thieves alternately each day to keep airborne nasties at bay.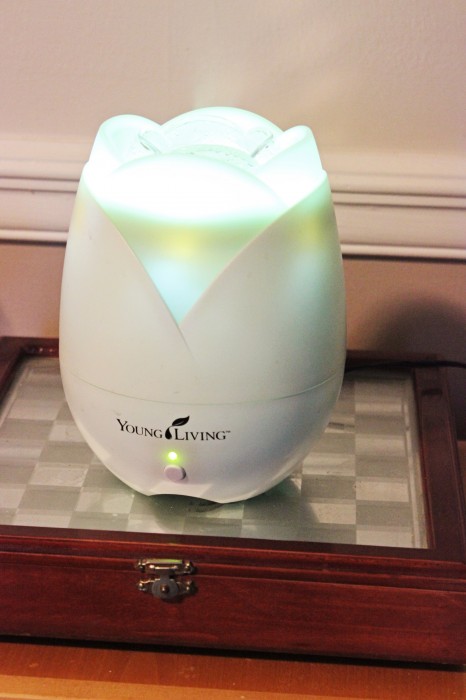 8. Sanitize bedding and attachment objects – During the winter I wash the kids sheets, blankets, and stuffed animals more frequently. If Gus takes his blanket to the nursery at MOPS or church, it gets washed when we come home. I add 3 drops of Purification to each load of laundry to make sure everything is as clean as possible.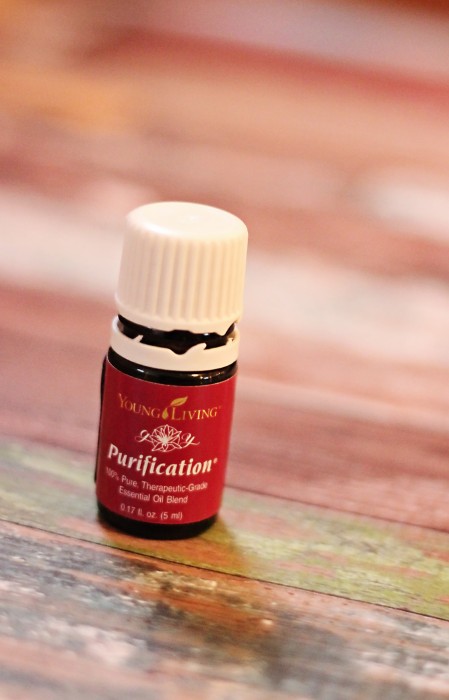 No matter how many precautions we take, colds still happens occasionally. We live on earth after all and not heaven! Click the link for ways to lessen the severity and duration of a cold.