Are you a morning person? Good for you! I've always been a night owl, but even if you're an early bird the responsibility of getting a family up, at 'em, and out the door in the mornings can be overwhelming. I didn't realize just how overwhelming until Sweet T started elementary school and Gus started preschool during the same year. Below are 5 ways I've found to make school mornings less stressful for everyone.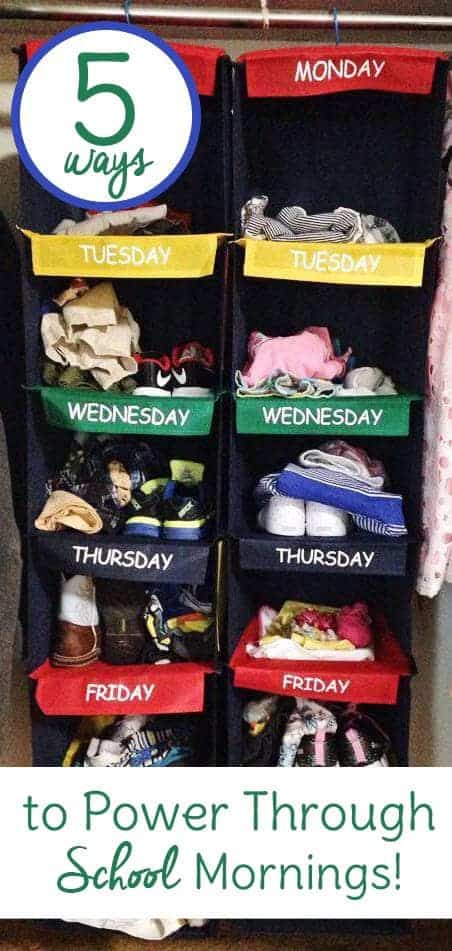 5 Ways to Make School Mornings Less Stressful
1. Prepare the night before – Having outfits laid out and backpacks packed before your head hits the pillow will not only make the next morning go smoothly, but will allow you to rest easy with at least a few things off your mind. I love using this days of the week closet organizer for organizing school outfits ahead of time, and keeping a bowl of chips, pretzels and other snacks at the ready cuts down on lunch-packing time.
2. Don't let the kids start your day – Start it on your terms by getting up before they do. My mornings are always much more peaceful when I wake up at least 30 minutes before the kids. An hour is ideal, but…yeah.
3. Allow extra time for drama – No matter how much you prepare the night before, you're herding feral cats dealing with children here. Shoes will go missing, outfits that they choose themselves the night before will become unacceptable, and you'll wait an extra 2 minutes for the youngest to buckle up because she discovered a toy under the passenger seat that she forgot all about. Just do yourself and everyone else a favor by pretending your target time for being out the door is earlier than it actually is.
4. Turn off devices – Whoever is texting you can wait for a response until you've tackled your morning. Also consider catching up on the news in the evening instead of over breakfast. Who wants to add negativity, stress, and more demands to their already hectic morning? The same thing goes for social media. Wait until things have settled down at home before you check your newsfeed.
5. Keep breakfast simple – The kids love to eat frozen pancakes, waffles, or french toast sticks before school. That's a huge help to me since their breakfast can be prepared in less than 5 minutes.
But what about me? Even when I get up before my kids, my time is often spent getting them ready to walk out the door. I could sacrifice sleep and get up even earlier (Yeah right. Sleep is way too precious), eat after I've run the traffic/drop off/car line marathon (I'm "hangry" by then!) or look to a nutrition bar for a little help.
ZonePerfect bars combine 17 to 19 vitamins and minerals with 170 to 210 calories and 10 to 15 grams of protein per serving. The ideal balance of carbohydrates, protein, and fat will keep you satisfied plus they taste great! There are 14 flavors available, but you know I'm going to gravitate toward the flavors with lots of chocolate.
ZonePerfect bars are convenient because I can find them at my local grocery, or have them delivered via Amazon. The Chocolate Peanut Butter, Fudge Graham, and Double Dark Chocolate flavors were all delicious but I think my favorite was the Fudge Graham (think s'mores!)
On particularly busy school mornings when we're running behind and don't want to be late, I'll grab a ZonePerfect bar for my purse and eat it on the drive to school.
If you find yourself overwhelmed by weekday mornings, try these tips to take back the AM!
This post has been sponsored by ZonePerfect. All thoughts and opinions are my own.